Wiley CMAexcel is by far the most improved when it comes to review courses for the CMA exam. With the introduction of video lectures and the new unlimited access until you pass guarantee, you will be hard pressed to find a more comprehensive review course.

No matter what your background, Wiley CMAexcel has a product that will work for you. My goal is to help you identify which product you need based on your experience and educational background. 

I also want to help you identify how you study and if the course layout is going to cater to your strengths. 

Here is a summary of the products offered by Wiley CMAexcel and what I will cover (Click Links For More Information On Each Product):

Product #1: Wiley CMAexcel Full CMA Review Course
Product #2: Wiley CMAexcel Learning System
Product #3: Wiley CMAexcel Online Intensive Review (OIR)
Product #4: Wiley CMAexcel Test Bank - included in Full CMA Review & OIR
Disclosure: Please note that some of the links below are affiliate links, and at no additional cost to you, I will earn a referral fee if you decide to invest in a CMA Review Course listed below. Please understand that I have personal experience with all of these platforms, and I recommend them because I know that they will help you pass the CMA quickly, not because of the small commissions I make if you decide to buy something. Please only use my links if you feel that I have helped you in your CMA Review Course decision!
If you have an accounting or financial management background and if you learn best by performing thousands of multiple choice questions and flashcards, then Wiley CMAexcel is for you. 

Their advanced online program is perfect for any professional who is on the go.
What I Learned About Wiley CMAexcel!

After spending several hours reviewing Wiley CMAexcel 2017, I found that what makes this course really shine is its efficient study plan. Between the text, online lectures, and test bank, you are constantly moving between lectures, your text, your printed flash cards and your multiple choice questions and then reviewing what you have just learned.

To me this is the most effective way to study for the CMA exam.

Wiley CMAexcel offers 3 different options for you to pick. Depending on your budget and your study material needs I want to break down each option and uncover the pros and cons of each product. 


Product #1: Flagship Wiley CMAexcel Review Course
As I mentioned in my video review, Wiley CMAexcel uses the same software format of it's CPA counterpart that put Wiley on the map in the CPA industry.

When you log into Wiley CMAexcel for the first time you are greeted with a welcome dashboard where you will navigate the course. 

As you can see in the screenshot above, your daily assignments will be listed, you will have access to professional mentoring if you have any questions outstanding, and you can track your progress with the Scorecard Summary.
Wiley CMAexcel Study Plan
Obviously your first step is to set up your study plan. 

Wiley CMAexcel has a fully customizable study planner that you can adjust based on the dates you can study and when you plan to sit for the exam. Based on the days you give the software you will be give daily assignments with an estimated amount of time given to complete each task.

I found this a great tool for people who need to pushed a little bit to keep with the schedule and love to be able to cross off items on a checklist.
Wiley CMAexcel Daily Assignments
The screenshot below shows one topic to be completed.

For each topic you will watch a video lecture, complete exam questions and have the option to watch additional Deep Dive video lectures if you wish to go through more examples.

You also have the option to download slides from the lectures, memorize electronic flashcards, and participate in the Mentored Discussion Forum on the topic selected.

For me personally I really like having the structure of knowing exactly what I need to complete for a particular topic. I don't like spending more than 30 minutes on any single lecture so I really like how CMAexcel breaks up the lectures so that you can devote more of your time to reading the text and completing multiple choice questions.

This is the reason why I think Wiley CMAexcel is one of the most efficient review courses currently available.
Wiley CMAexcel CMA Review Course Lectures
What makes Wiley CMAexcel unique is the fact that they have true classroom video lectures. Dallon Christiansen, CMA is the co-author of the Wiley CMAexcel material and is the primary instructor for the 2017 CMAexcel course. In addition to working for Wiley, he is a CFO and a part time instructor of accounting.

I found him to be very engaging and able to thouroghly explain the topics in an efficient manner.

I recommend watching my video review above to get a better idea of his instructing style.


Wiley CMAexcel Multiple Choice Database
Built into the Wiley CMAexcel software is a test bank of 600+ multiple choice questions and rationales. As you can see in the screen shot below, you can get instant feedback on each question with a comprehensive explanation for why you got the question right or wrong.

By using the "Course Test Bank" option you can further narrow down your practice exam by selecting individual topics for review. I recommend using this function once you have gone through several topics and want to start performing comprehsive reviews of those topics to keep them fresh.

In addition to the built in Multiple Choice Questions and Essays you will receive access to the CMAexcel Online Test Bank which is a separate product that is included with all 3 CMAexcel products. It includes 1,300+ multiple choice questions in addition to the 600+ included in the CMAexcel software. I do a full review of the Online Test Bank below.
Wiley CMAexcel Essay Questions
Don't forget to practice your essay questions!

Wiley CMAexcel has nailed the CMA exam essay format and have provided you with as close to the real thing as possible with their Essay Simulations.

As you can see from the screenshot above, you are given a complex essay question and you are given the oppurtunity to draft a response. Based on your response you can compare it to the answer provided by CMAexcel. I recommend studying how CMAexcel words their responses as you will want to emulate the format and structure of their responses.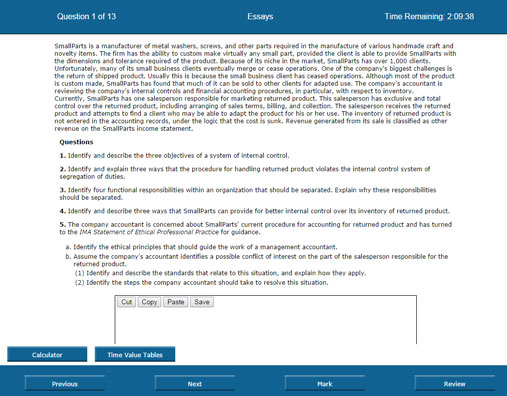 Wiley CMAexcel Multiple Choice Analytics
What makes a good review course is how comprehensive their analytics are. 

Wiley CMAexcel tracks your progress better than most CMA review courses. By breaking down your progress by lessons you are able to pinpoint the exact topics you need to focus on.

Based on the topics that you can identify then you can create custom practice exams for yourself to hone in on those areas. You are also able to go directly to your text and flashcards and focus on reading and memorizing in those areas.

As you can see in the screenshot below, there is a pie chart that tracks your scores so focus on the areas where you are scoring less than 75%.
Wiley CMAexcel FLASH CARDS
As someone who would not be a CPA today without flashcards, I love the fact that Wiley CMAexcel has built in flashcards to their course. 

The reason I love flashcards so much is that it saves you countless hours of identifying the MOST important topics. Wiley CMAexcel knows what topics you need to know so it can be a waste of your time to try and make flashcards on your own because you are shooting in the dark as to what is actually important to know.

I highly recommend that you use Wiley CMAexcel's flashcards regardless of whether you are even using their course. It is the most efficient way to memorize.

Here is a link to Wiley CMAexcel's flashcards, click here to learn more.
Wiley CMAexcel Practice Exam
So once you have a strong handle on all of the topics and your multiple choice question scores are high it is time to start taking practice exams.

Wiley CMAexcel has recreated the Prometric CMA exam format down to the same colors. You will be able to create practice exams based on the same % of topics covered by the actual CMA exam. So not only does the CMAexcel practice exams look like the real CMA exam it is also weighted very similar to the real exam.

My recommendation with practice exams is to treat them like the real thing. Lock yourself in a room for 4 hours and focus on answering the multiple choice questions as efficiently as you can. I am confident that if you can pass a Wiley CMAexcel Practice Exam, it will more than prepare you to sit for the real exam.
Wiley CMAexcel CMA Review Course Pros & Cons
You Need To Read These Before You Buy!
Best Access
Full CMAexcel Review Course is available for you to use until you pass (best in the industry)
Multiple Choice
2000+ multiple choice questions available for you to utilize
Textbooks
Comprehensive textbook with real world examples to help put topics in perspective
Flashcards
Printed Flashcards - The best way to learn difficult topics are with the use of flashcards. Wiley CMAexcel saves you the time of making your own with these printed flashcards.
Video Training
21 hours of classroom video lectures - (best in the industry)
Other Options
If you don't need the full CMA review course you can purchase the Online Intensive Review or the CMA Learning System. These products are much more affordable but don't have the same features or unlimited access. Great options to supplement your current course.
Tech Learning Curve
Bit of a learning curve to understanding how the CMAexcel system works and all the features it has to offer. 
Pricing
The Flagship CMA review course is expensive (starts at $1,255). However if you want a course that is going to be with you for as long as it take to pass then I think the extra money is worth the investment.
Final Recommendation:

I would strongly suggest anyone who is fairly tech savvy, like video lectures and needs a comprehensive CMA review course to take a look at Wiley CMAexcel CMA Review Course.

Don't just take my word for it, try Wiley CMAexcel CMA Review Course for free by clicking below:




NOTE: If you are still unsure how you learn best and whether Wiley CMAexcel CMA Review Course is absolutely the best course for you I would be glad to assist you in your decision in the comment section below.
Other Options Available From Wiley CMAexcel
Product #2: Wiley CMAexcel Learning System

What Is The Difference Between Full Course & (LS)?
The second product offered by Wiley CMAexcel is the CMA learning system. It is just the barebones version of the Full CMAexcel Review Course. You receive the full textbooks and the online test bank, but no video lectures, flashcards and only 24 month access if you purchase both parts.

Refer to the review below to learn more about the Wiley CMAexcel Online Test Bank.
Product #3: Wiley CMAexcel Online Intensive Review (OIR)
Try the Wiley CMAexcel (OIR) Online Intensive Review Here

To alleviate some of the confusion regarding the different product offerings by Wiley CMAexcel, I made a separate video review of the Online Intensive Review. 

This video covers the Quick Refresher Course that is based on the Certified Managerial Curriculum and the Online Multiple Choice Test Bank that includes 1,300+ multiple choice questions. 

Watch the Wiley Online Intensive Review Course in action below. This course is for you IF you don't need lectures or flashcards.
Wiley CMAexcel Online Intensive Review CMA Dashboard
The dashboard of the Online Intensive Review is very easy to navigate and is broken down into sections that you can drilldown.

Please understand that their are NO lectures and NO study planner. You are on your own when you use this course so I can only recommend it to people who already have a STRONG understanding of Managerial Accounting and just need to use these slides as a quick refresher. 

If you need someone to teach you the materials then I can't recommend this product offering.

This is course is very affordable, but it is due to the fact that there aren't as many bells and whistles as the full CMAexcel review course and you only have 24 month access with the purchase of both parts.


Prepare For The Real Thing With The Timed Wiley CMAexcel Practice Tests
Wiley CMAexcel CMA Online Intensive Review Course Map
I recommend using the Course Map to navigate to the sections you want to review. It is the easiest way to find a particular topic.


Drill Down To Find Topics You Need To Review
Wiley CMAexcel CMA Online Intensive Review "Ask The Experts"
One of the main features of the Online Intensive Review is the "Ask the Expert" function. If you have any specific questions about the CMA exam or particular topics you can fill out a form and you will get a response within 48 hours.

It is not the speediest customer service, but at least they don't charge you like Lambers CMA does for customer service...


Wiley CMAexcel CMA Review Course Pros & Cons
You Need To Read These Before You Buy!
Ease of Use
You Gain Access To The Online Multiple Choice Test Bank
Integrations
Works For Candidates Who Need Multiple Choice Questions Or Just A Quick Refresher Course
Pricing
More affordable than the full CMAexcel review course
Limited Resources
The Online Intensive Review has NO Lectures, Textbooks, Flashcards or Study Planner, can't recommend to use as a solo review course for the CMA (unless you have extensive managerial accounting experience)
Product #4: Online Multiple Choice Test Bank (included in Full CMAexcel and OIR)
The primary reason I think anyone would purchase the OIR course is to gain access to the CMAexcel online test bank. If you need to supplement your current course with additional multiple choice questions, then I highly recommend using CMAexcels Online Test Bank.

It come with 1,800+ multiple choice questions, unlimited timed practice exams, progress analytics and tracking, and ability to make custom practice tests based on topic or by section.

The online testbank is the best reason to buy the Online Intensive Review or the CMA Learning System if you do not need extensive lectures.
Access To The Wiley CMAexcel Multiple Choice Online Test Bank Which Includes Multiple Choice & Essays
Wiley CMAexcel Test Bank Practice Questions
The study session questions are very easy to navigate. You can flag individual questions to review later, you can access the text reference for individual questions, and see the explanation/rationale immediately after answering a question.

This set up makes it very easy to fully understand why a question is right or wrong.